Cynthia the Hyena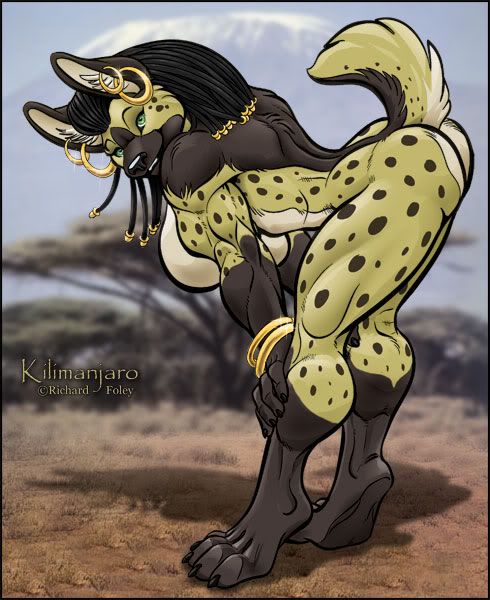 Picture is copywritten to Richard Foley (Moonstalker), All Rights Reserved.
---
---
NAME: Cynthia Vilefang
AGE: 20
SEX: Female
RACE: Hyena Anthro

HEIGHT: 5'10"
WEIGHT: 129 lbs.
HAIR: Black
EYES: Green
---
---
HISTORY
---
---
Cynthia was originally born a human, but in her town extortion squads usually cracked down on all of the citizenry and took their taxes or their freedom. Her family was very poor from the start, and when they couldn't pay the enormous taxes they were all taken away. Though her parents were later executed as they were of no use to the corrupted Governor she was taken away to the laboratories deep under the ground, it was there that they performed perverse experiments upon her. They were trying to create a creature that was neither animal nor human, in the end Cynthia thought it was too much and nearly gave in to exhaustion. But the Governor decided that a dead test-subject was a worthless test-subject, so he had her returned to her quarters and they would continue after she awakened.

The next day she was returned to the chambers and the experiments continued, this time they succeeded. Painful contractions formed in her skeleton as it began to change to suit that of an animal that was human in appearance, all she could remember were hours of screaming and gut-wrenching spasms racing through her body. Then darkness... When she awakened later she found herself on a bed inside of a tent, a group of freedom fighters had managed to set her free and finally deposed of the evil Governor. Both the Governor and his Extortion Squads were both labled as traitors and put to immediate death, those whom tried to escape execution were shot by snipers.

Though Cynthia was glad that her parents had been avenged, there was no cure for what they had done to her. And if there was, it resided with the scientist whom had did this to her. But he was nowhere to be found in the facility, desiring to be human again she thanked the freedom fighters and immediately headed off to try and find the scientist. Though no one else could see it, she caught the man's scent (recognizing it from her transformation back in the lab) and spotted his footprints. She followed them into a vast swampland, hearing a man's scream she headed off in that direction. It was then that her world came crashing down, she saw a huge wolf swallowing down the poor scientist whole (lab coat, notes and all).

Realizing that she could never regain her human body again since the man was now within the gullet of a ravenous beast, she quietly sneaked off. Though having lost hope of never being human, she later began to respect her new body. She could hear things most others couldn't, she could smell most things others could never obtain, and her sight was increased as well. The pads on her hands and feet also allowed her to move about silently without getting muck stuck to her fur, later that very day she was forced upon by a large male canine. Whom had every intention of raping her forcefully, she did not know what happened but she felt the hands no longer binding her and the weight pressed against her was gone. When she looked again, she saw a small six-inch canine pinned underneath one of her feet. She ate the canine whole and went on her way, somewhat enjoying the sensation of a squirming creature within her slender belly.
---
---
VORE PREFERENCES
---
---
Both Predator and Prey, Cynthia has the power to change the size of her prey or predator.

Preferences for Predator: Oral Vore, Crushing, Breast Vore, Yiffing, Unbirthing, and Anal Vore.

Preferences for Prey: Oral Vore, Crushing, Breast Vore, Yiffing, Unbirthing, Anal Vore, and Cock Vore.

Preferences for Scene: Detailed Posts, Soft Vore Only, Macro Predator preferred, and Micro Prey preferred.
---
---
MISCELLANEOUS INFORMATION
---
---
Player is 22 years-old
Alt of Kyla